If you are unfamiliar with cnc MPG pendants you may be wondering how they could help you operate a hobby cnc machine. 
This review of my vistacnc MPG pendant should answer your questions.
They are possibly the single most useful accessory you can buy for your CNC machine.
Read on to find out why…..
What is an MPG pendant or 'jog controller'?
M.P.G. is an acronym for manual pulse generator, they are hand held devices that let you manually move a cnc machine along its axes. 
Most mpg's use a handwheel to generate the electrical pulses that send the signals to move the machine. The handwheels rotation is divided into small 'ratchet like clicks' which provide haptic feedback letting you send one pulse at a time if needed.
Most mpg's are connected to a computer by a usb cable, but there are wireless mpg's available.
iMach III P1A CNC Control Pendant
This mpg is one of the less expensive models from Vistacnc but the capabilities it has exceed what is available with many pendants on industrial machines.
These extra functions are needed because operating a hobby cnc machine using a computer mouse can be clumsy and frustrating. 
The portability means you can use it while looking at the workpiece and not at a screen. 
Being able to control functions on your software that need to be used while you are in front of your cnc is a huge benefit.
It is as useful for a cnc machine as a mouse is for a computer. This is huge!
So what are these features and how do you use them?
P1A CNC Control Pendant features
Plug n' Play USB connection and controls.  
100 steps high precision MPG.  
Step, Velocity and Continuous mode jogging through MPG.  
Feed rate, Spindle speed, and Slow Jog rate change through MPG.  
Quick step size selection.  
4 Axis selections.  
E-Stop with flash LEDs indicator.
Build Quality
First, I want to have a look at the pendants physical qualities. 
My first impression of the pendant was very positive, it has a good weight to it and the material and design look and feel good quality. 
The rotary switches have a very strong and positive action when switching between functions. A loud satisfying click is produced on both switches.
The handwheel is just as good, with a smooth solid rotation with a very distinct 'ratchet' feel letting you easily move it one click at a time without fear of over running.
The quality is easily on par with the pendants I have used on industrial machines at work.
My one complaint would be the emergency stop button, it is moulded from a plastic that does have a somewhat cheap and brittle feel to it. I suspect this was done to make it translucent so it can be lit up from inside the button.
I don't think the light is necessary, personally I would have preferred a stronger plastic with a 'rubberised' and durable feel. 
There is a 'rubber boot' available to buy separately which is similar to a cell phone case, to help protect the pendant if dropped.
How to use the P1A Cnc pendant
OFF
Starting with the left hand selector knob, the 'OFF' position is self explanatory.
In this position it prevents any movement if you accidentally catch and spin the handwheel.
SCR
Turning the selector to 'SCR' (short for screen) lets you change the screens on your cnc control software.
In my case I am using mach3, so if I move the handwheel one click counter clockwise the Mach3 virtual handwheel will appear on the screen. This is the equivalent of pressing the tab on my keyboard.
Turning the handwheel clockwise will scroll through the Program run, MDI and Tool path screens.
Vistacnc pendants don't run exclusively with Mach3, there are other software drivers available. More on this later…
Datum Symbol
The next option is the 'checkered circle' which represents a datum. Not surprisingly this lets you zero your offsets.
This is accomplished by using the right hand selector knob to choose the axis you want to zero, then turning the handwheel one click.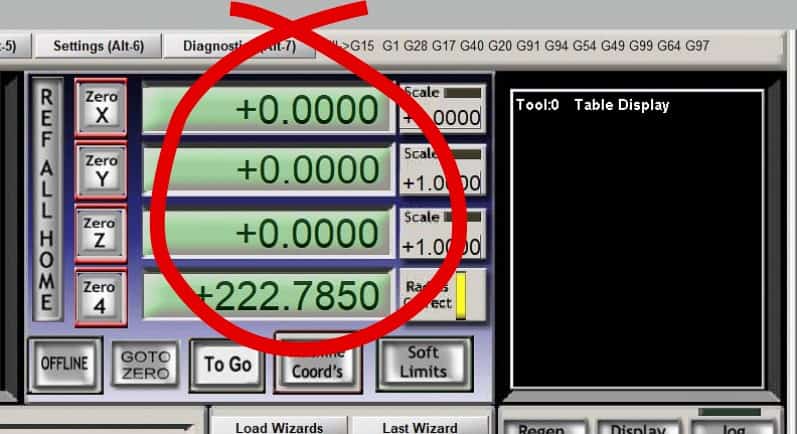 0.1/0.01
This function is for changing your step increments. In Mach3 these values are displayed on the virtual MPG.
Move the handwheel to scroll through each predetermined step value. These values are set in the general config in Mach3.
I have my increments set at .01" .001" and .0001". These values are typical on most Cnc Machines.
C
This symbol represents Continuous Mode. 
This function is used to move the axes on your cnc machine. 
Select which axis you want to move on the right hand selector knob and wind the handwheel.
The axis will then move at a predetermined feed rate independent of how fast or slow you are spinning the handwheel.
V
This symbol represents Velocity Mode. 
This function is again used for moving the axes on your cnc machine. The difference with this option is that the axis will move faster or slower depending on how fast you spin the handwheel.
This gives you more control when approaching the edge of a part with your edge finder, for example.
S
This symbol represents Step Mode. 
Select the step distance using the 0.1/0.01 function and turning the handwheel one step will move the axis the predetermined amount.
This option is used when moving an edge finder close to a part. 
Having control over how far the machine moves will let you accurately set your datums with your edge finder without crashing the machine.
F%
This option is on the right hand selector switch.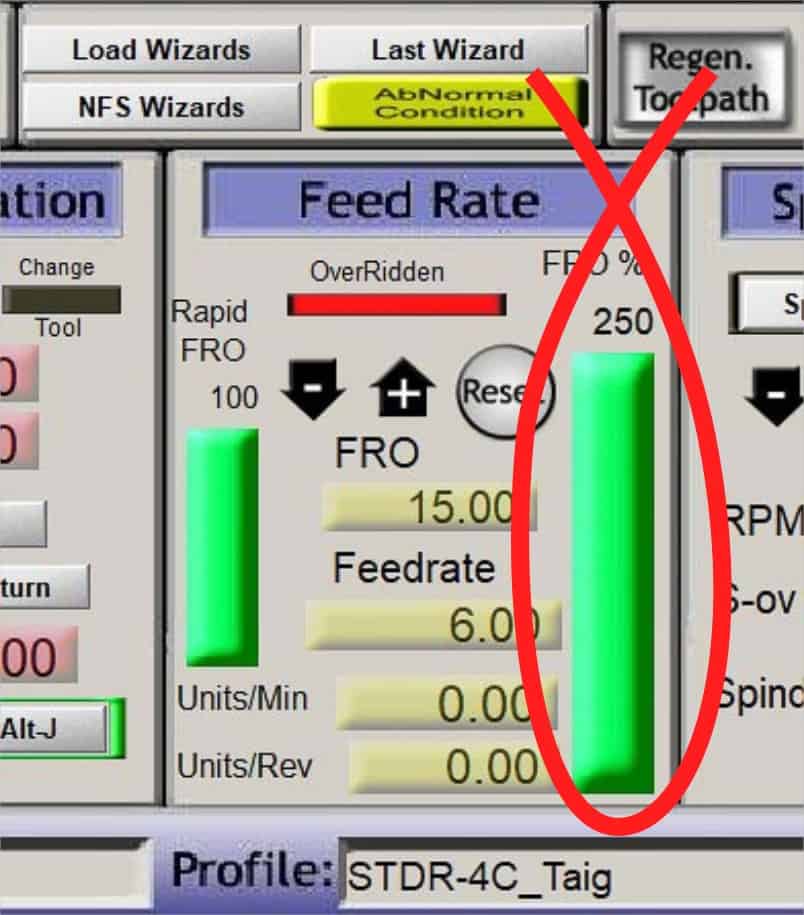 Enabling this function lets you override the feed rate while your machine is running. Adjusting the feed rate like this is very useful and lets you 'tune' your feed rate on the go while visually monitoring the tools behaviour.
S%
This next option enables the spindle speed override. Similar to the feed rate override, enabling this lets you speed up and slow down your spindle speed.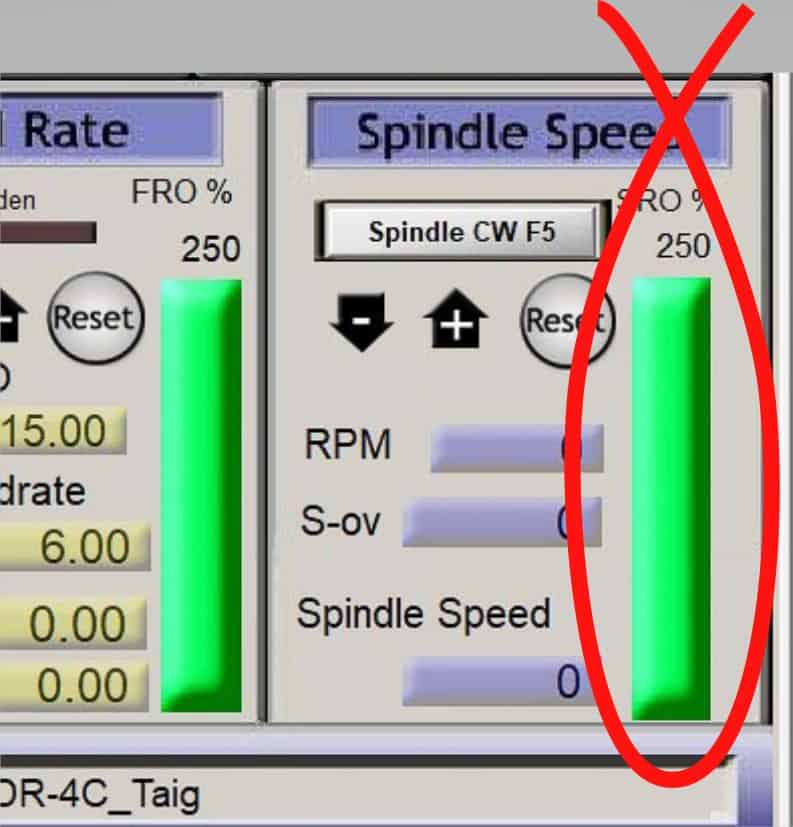 Your machine does have to have a variable speed spindle for this to work though.
C%
This final option enables you to adjust the slow jog rate used when operating in Continuous Mode.
What software programs are Vistacnc Pendants compatible with?
Vistacnc pendants are marketed as plug and play. While this is not completely true it was very easy to set up.
Just copy the file for your pendant into the plugin folder, go into the plugin config screen in Mach3 and enable it, close and restart Mach3 and you will be good to go.
There are drivers available for Mach3, Mach4, LinuxCnc, UCCNC and MachineKit.
Where can you buy your own VistaCnc Pendant?
You can buy them directly from VistaCnc or alternatively they are available on Amazon, although the choice of pendants seem to be limited there.
Conclusion
Do I think it was worth the cost? 
Definitely, it makes using my mill so much easier and it has worked flawlessly for the five years I have owned it. 
If you don't already own an MPG pendant I highly recommend getting one. 
Just imagine trying to use your PC without a mouse, that's the difference it can make when using a pendant on your cnc mill or router.