If you already know what the best edge finder is for your application and how it works, here are a list of the reviewed products for you to compare.

The edge finder I recommend is,
Sale
The remaining reviewed products
Preview
Description
Mitutoyo 050103, Edge/Center Finder, 3/8" Diameter Shank,...*
TESA Brown & Sharpe 599-792-2 Single End Edge Finder, 3/8"...*
Starrett Wiggler or Center Finder - Complete with Case, Ball...*
Fowler 54-575-600-0, Electronic Edge Finder - 0.200"*
Haimer 80.360.00NG New Generation 3D-Sensor*
Preview
Description
Mitutoyo 050103, Edge/Center Finder, 3/8" Diameter Shank,...*
Preview
Description
TESA Brown & Sharpe 599-792-2 Single End Edge Finder, 3/8"...*
Preview
Description
Starrett Wiggler or Center Finder - Complete with Case, Ball...*
Preview
Description
Fowler 54-575-600-0, Electronic Edge Finder - 0.200"*
Preview
Description
Haimer 80.360.00NG New Generation 3D-Sensor*
What is an edge finder?
This is a tool that accurately positions a milling machines Z axis against a vertical edge. This enables you to set the X and Y axis datum offsets on a part that you need to mill. 
It doesn't matter how big or how small your machine is, these tools operate in the same way.
You can expect to get an accuracy equal to or better than .0005".

The Anatomy of Edge Finders
The basic mechanical edge finder consists of a metal tube for the main body. A cap screws into the top of the main body and a contact head is connected to the cap with a spring through the center of the body. The contact head is free to slide against the body with the spring keeping it held in place.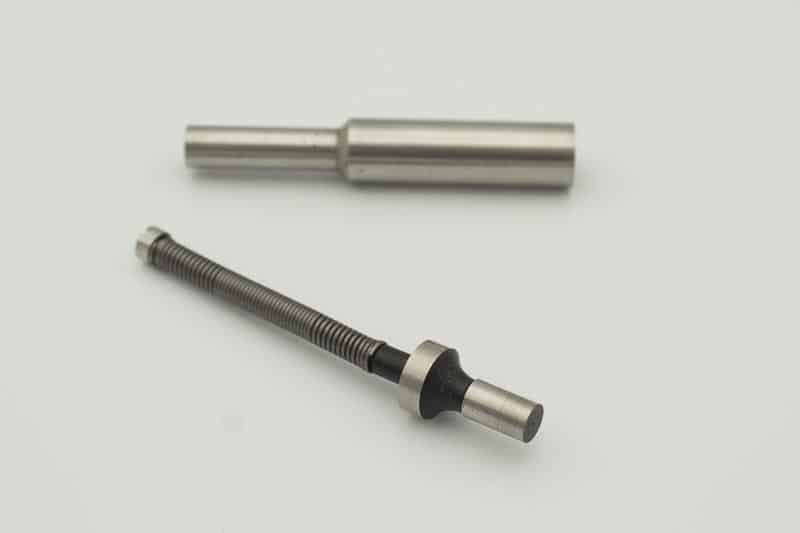 The main body and the contact head are made of hardened steel and ground to a fine finish.
The surface finish on the end of the main body and the contact head is especially important as they have to slide against each other with as little friction as possible. 
Also, the part of the contact head that touches the edge has to be ground to an accurate known diameter so the position of the center can be easily calculated.
How to use Edge Finders
Different styles of cnc edge finder are used in slightly different ways but I will explain how the most common type, as described above, are used in a cnc machine. 
The edge finder is gently tightened in the spindle collet or chuck.
The contact head is pushed to one side so that it is off center.
Manually position the contact head close to the edge to be touched.
Set the RPM of the spindle to approx 700rpm, no more than 1000 rpm.
Move the required axis incrementally toward the part.
Reduce the incremental steps to .001" as it gets close to the part.
When it touches, the contact head will start to center up to the body.
As it starts to get close to centering, reduce step increment to .0001"
When it is exactly against the edge, the contact head will move to one side.
The machine axis can now be zeroed.
Adjust the offset to account for the radius of the contact head.
These instructions apply to most edge finders including the wiggler or wobbler style of tool.
Using an MPG pendant makes this process a whole lot easier than using your keyboard to do this. 
Always double check the step increment distance you have active in your software to avoid wiping out your finder as you get closer to the part.

Brown and Sharpe Edge Finders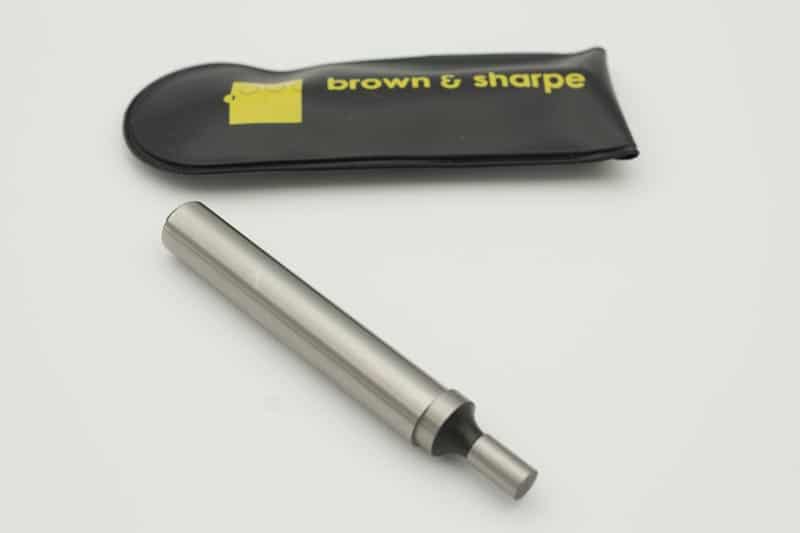 This is the brand I bought to replace my old one that I managed to destroy. It is ideal for what I need. The diameter of the shank is small enough for the collet in my benchtop cnc and it isn't too long.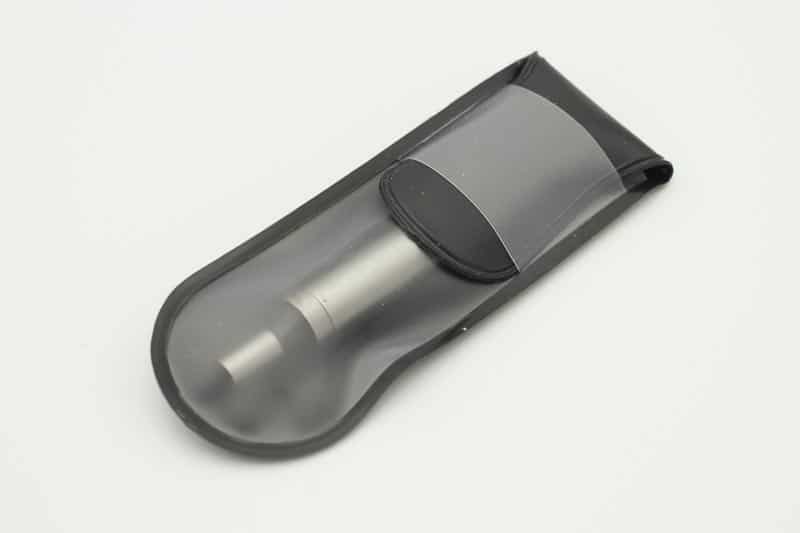 The price is right and it does exactly what it's supposed to do. It comes in a plastic pouch for storage and protection against dirt and moisture. 
It features a ⅜" diameter shank and a .200" diameter contact head and is approx 3" long.
Pros
Well priced
Small enough for a benchtop mill
Hardened and ground steel for accuracy and durability
Storage pouch
Cons
Starrett Wiggler & Centre finder Set
This edge finder set from Starrett is a good choice and has to be my second recommendation. I have owned this set for many years and is kept in my toolbox at work. 
The machines I use at work have digital probes but it gets does get used, mainly for the occasional job on a manual machine.
The set contains two, large and small, a center finder (pointer) and an indicator arm.
Wobblers (or wigglers) are used in the same way as described previously, but will climb over the edge of the part when it hits vertical.
You have to make sure that the arm is high enough up to have room to 'escape' over the top or it can jump out of its socket.
Depending on the size of your machine this type of tool can be too tall. It has a main body that is held in the spindle and the length of the spindle combined with the body can be restrictive on a small machine.
The pointer is used by turning on the spindle, less than 500rpm ideally, and then it is pushed until no wobble can be seen. I use a small steel rule to do this.
When it is running true it can be used to position the machine over scribed lines etc. 
This is the modern version of pushing a pin in some blue tac on the end of a cutter! 
The bent arm is used for mounting a small finger dial. Using this lets you accurately pick up a hole center. 
Just grip it in the spindle of your machine and rotate the spindle by hand, adjusting the X and Y axis of your machine. 
Keep adjusting the position until the dial does not deviate as you rotate it around the hole. Your Z axis will now be accurately positioned in the center of the hole.
Just don't turn your spindle on while it is in your machine, your dial will come apart and turn into a missile. We've all done it. :>(
The main body has a shank diameter of .375", the bigger wobbler has a diameter of .25".
Pros
Good quality brand
Set includes tools with multiple uses
Storage case included
Cons
Might be too long for some uses on a small benchtop cnc mill
Price is higher than just buying an individual edge finder
Starrett Wiggler or Center Finder - Complete with Case, Ball...*
Power Tool and Attachments - Wiggler/Center Finder S828 and four different attachments adapt to countless applications and are readily interchangeable. It is an essential tool for any machine shop.
Concentricity Made Easy - The attachments are snapped in the chuck without removing the collet nut and are clamped by a ball swivel-joint that permits adjustment to an angular position or true concentricity.
Index Your Work - The Ball Contact 828B is useful in locating work by first bringing the contact (ball diameter .250" or 6.35mm) against the work, a slot, hole, shoulder, or end, and indexing the work to the desired position relative to the spindle.
Get The Job Done Right - The Disc Contact 828C, which has a small disc at the end (.100"/2.54mm) diameter, permits use in more confined areas such as slots or shallow holes.
Best Performance - The Offset Indicator Holder 828D can be used with Last Word Test Indicators, the user can sweep holes or O.D.s for checking run-out or concentricity, establish center distances, check straightness or alignment of flat surfaces.
Mitutoyo 050103, Edge / Center Finder
This edge finder from Mitutoyo has two functional ends. The cylindrical end is a standard finder and the end with the cone is used to find the center of a hole.
To find the center of a hole you grip the center finder in your spindle with the pointed end down.
Unlike the standard cylindrical end you do not have the spindle rotating. 
Carefully lower the tool into the hole until it is just touching the diameter of the hole all the way around.
When this is done the end will be visibly offset from the main body. Slowly move the X and Y axis until the cone end has lined up with the main body. 
Now you use your fingers to check how well the end matches the body.
When you cannot feel any step around the circumference of the body, the Z axis will be lined up with the center of the hole.
This tool can also be used on a drill press to line up center punched holes. Again, this is done without the spindle on. 
Just position the point into the dimple made by the punch and shift your work piece until the end is perfectly matched to the body. Clamp down the work piece and drill a perfectly positioned hole.
This is the ideal edge finder for small benchtop mills.
Pros
Excellent value
Dual uses
High quality product
Small enough to use on a benchtop cnc mill
Hardened and ground for accuracy and reliability
Comes with a storage pouch
Cons
Sale
Fowler Electronic CNC Edge Finder
If you are interested in entering the electronic age, there is this option from Fowler. This edge finder works using a battery. 
When it touches a metal workpiece an electrical circuit is created and this will light up the end of the edge finder.
This type of edge finder is used without turning on the spindle, doing so will damage it.
Due to its design this type of edge finder can only be used with conductive materials such as metal.
This is a big problem for hobbyists as a lot of projects are done in materials like wood or plastic, rendering this tool less than useless.
It also uses a non standard battery and the shank is .5" in diameter, this is too big for most, if not all hobby machines.
My advice would be to avoid buying any electronic edge finders, they don't offer any accuracy advantage over the mechanical type.
Pros
No need to turn on the spindle
Visual indicator, some have an audible indication.
Cons
Costs more
Shank too large for many small hobby machines
Uses non standard batteries
Only works with conductive materials
Fowler 54-575-600-0, Electronic Edge Finder - 0.200"*
EDGE FINDER: Edge detection tool with 0.2" stylus that lights instantly when it touches work edge and contact is made between 2 conductive surfaces
LIGHT PORTS: Professional edge finder with six equally spaced light ports that provide visibility at any angle
MEASURING CAPABILITIES: This electronic edge finder has a 1/2" mounting shank with a repeatability of 0.0002"
ACCURATE MEASUREMENTS: This electronic edge finder can read off any electrically conductive metal; it uses one 12V battery
BUILT TO LAST: Made in the USA
Haimer 80.360.00NG New Generation 3D-Sensor – MM (Metric)
If you want the ultimate edge finder, this is it.
The Haimer new generation 3D sensor is a precision engineering instrument, it is industrial quality, designed and made in Germany. It has a measuring accuracy of .01mm (.0004"). It works in all 3 axes with much more functionality than a standard edge finder.
It's basically an advanced dial indicator with a price to match its abilities. 
Using it as an edge finder removes the need for any calculations because the probe will deflect enabling the spindle to be positioned over center. Just move the axis until the dial reads zero, then set that position as your datum.
The downside to this device is its size. It is probably too large for most desktop and hobby machines.
It also has a 12mm shank which is too large for an ER16 collet spindle.
This is not really suitable for home use unless you own bigger machines.
Pros
Extremely high quality
Accurate
Has the functionality of a dial indicator as well
Positions the spindle exactly over the edge, no calculations needed
Cons
Super expensive
Only available in metric
Too large for small hobby mills
Sale
Haimer 80.360.00NG New Generation 3D-Sensor*
3-dimensional edge finder locates in X,Y and Z axis
Measure work piece dimensions
1 Short Probe Tip Included w/ Sensor
Measure surface flatness
No subtracting indicator tip diameter = NO MATH!
Conclusion
The main takeaway from this review is that sometimes the simplest design is the best. The basic edge finders are in my opinion the ideal solution for the hobby machinist. Check out my recommendation of the Mitutoyo edge/center finder.