We're an affiliate
We hope you love the products we recommend. Just so you know, we may earn a small commission at no cost to you if you make a purchase through one of our links.

Manufacturing 1-2-3 blocks is quite straightforward so you would be quite unfortunate to get a bad pair. If you want to buy a set, this pair of BL-123 blocks on Amazon will be ideal.
What Are 1-2-3 Blocks?
1-2-3 blocks are hardened and ground from steel that measure exactly 1" by 2" by 3". Each side of the block are ground precisely square and parallel to each other.
Multiple holes are drilled into them on each face, some of these holes are threaded, typically every other hole.
These tools are used in all machine shops everywhere, they are inexpensive and very useful and you can never have enough of them.
I use them every day and I am always finding new ways to use them.

How 1-2-3 blocks are made
The basic process of construction is to machine the blocks oversize, then the holes are drilled and tapped (threads added).
The next step will involve heat treating to harden the steel so it can withstand some abuse without getting damaged.
The blocks are then precisely ground on a table grinder, usually to within at least .0002".
I don't know if it is still common practice, but when I was an apprentice making your own 1-2-3 blocks was almost a rite of passage in your career as a machinist. It was a useful learning process and you had your own set to use when they were done.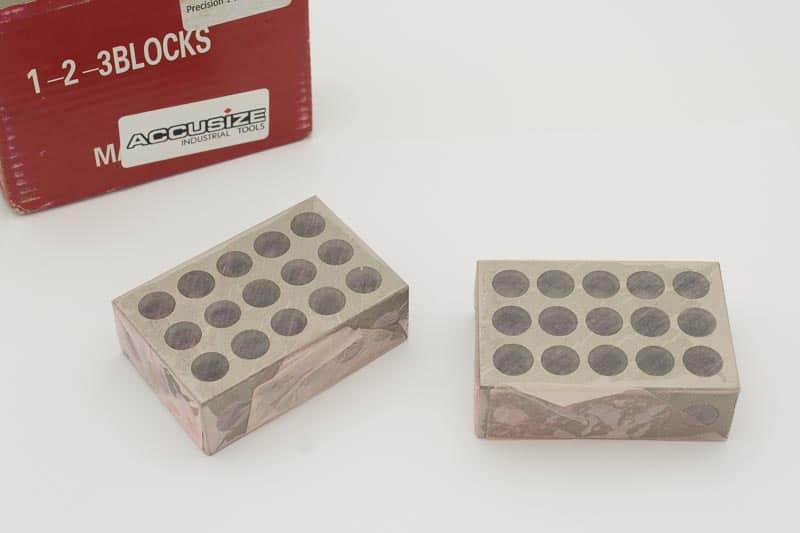 Using 1-2-3 Blocks As Parallels
One of the most common uses are as large parallels. They can be placed under a part which is then clamped down. This enables holes to be drilled through the part without drilling into the table of the machine.
Check your Tool Length Offsets
I regularly use them for checking a tool length offset. This is done by programming a safety line 1", 2" or 3" away from the z datum face of the part.
If you single block the program to stop at the safety line you can stop the spindle and check with the 1-2-3 block to verify that the distance is correct.
Create A Repeating Setup
They can be clamped to a machine table to create a setup for machining multiple identical parts.
Doing this eliminates the need to re-establish your datums for each new part. Having a setup like this also speeds up your cycle time and reduces the possibility of setting an incorrect datum.
Use Them For Measuring
1-2-3 blocks are really useful for measuring the parts you are making. They can be held against an edge to give you a protruding face to use with your calipers.
They can also be used as a square to check two faces for 90 degree or to set a face vertically when clamping in a vise.
Although the extra width when compared to a proper square can sometimes be an issue.
Verifying Your Measuring tools
Given that 1-2-3 blocks are accurately ground to within .0002" or .005mm you can use them to check or zero your measuring tools.
Most home machine shops or hobby mills are not able to make large parts so a 3" measuring range is perfect for most hobbyists.
A single 1-2-3 block can be used to verify and zero a set of 0" – 3" micrometers. It is also important to set all your measuring tools to the same block, this ensures continuity with all your sizes.
What are the holes used for?
The reason for the holes is to give you the ability to clamp them together to create elaborate setups, generally intended for inspection purposes I believe.
I have used the threaded holes before for adding an additional small clamp or two for an awkward shaped casting.
Other than that the holes do not generally get used.
I suspect that the reason for the holes has been forgotten by manufacturers, the way most are made do not make it possible to connect them together.
The drilled holes are not big enough to clear the size of screw needed to thread into the tapped holes and no provision is made to have the head of the screw sit below the surface of the block.
Which 1-2-3 Blocks should You Buy?
I already gave my recommendation at the top of this article but to be honest you could buy most brands and still get a good set.
1-2-3 blocks are quite straightforward to manufacture so it would be difficult to screw them up.
I would just check the reviews to make sure there are enough satisfied customers to give you the confidence when buying.
Don't try and save a few bucks on a brand that is short on reviews, even the sets that cost a little more are really good value.

Final Thoughts
The uses listed above only scratch the surface of what a 1-2-3 block can be used for. Every machinist has their own unique projects or processes that will provide a one of a kind use for these tools.
Once you own a set you will wonder how you managed without them.