ER Collets Suitable for a Hobby Cnc
Preview
Description
KIPA 15Pcs ER11 Spring Collet Set 1/16"-3/4" For CNC Super...*
Accusize Industrial Tools 7 Pc Er-11 Collet Set, Range from...*
2 in 1 7000mW CNC 3018 Pro Engraver Machine,GRBL Control 3...*
ER-16 Collet Set 12PCS ER-16 Spring Collet Set 1/32-3/8 CNC...*
Preview
Description
KIPA 15Pcs ER11 Spring Collet Set 1/16"-3/4" For CNC Super...*
Preview
Description
Accusize Industrial Tools 7 Pc Er-11 Collet Set, Range from...*
Preview
Description
2 in 1 7000mW CNC 3018 Pro Engraver Machine,GRBL Control 3...*
Preview
Description
ER-16 Collet Set 12PCS ER-16 Spring Collet Set 1/32-3/8 CNC...*
What are ER Collets?
An ER mill collet is a cnc tool holder for endmills, drills etc in a mill. They can also be used in a small micro lathe in the place of a chuck to clamp the workpiece.
The ER collet system consists of a main shaft or body with a threaded end, a nut, which screws onto the main body and interchangeable collets. 
 On a Benchtop milling machine or router the body of the collet will be incorporated into the spindle of the machine.
The collets snap into the nut which is then screwed onto the main body or spindle, the tool is inserted into the collet and the nut is then tightened. 
The collet sits in an internal tapered shaft which matches the taper of the collet. This taper compresses the collet against the tool and locks it into place. When the collet is loosened the ring that is clipped into the collet pulls it away from the taper lock releasing the collet and the tool.
If the collet was not clipped into the nut it would remain locked into the taper and would be difficult to remove.
ER Collet Design
The nut has an eccentric snap ring set inside and a taper that the front of the collet sits on to compress the top of the collet.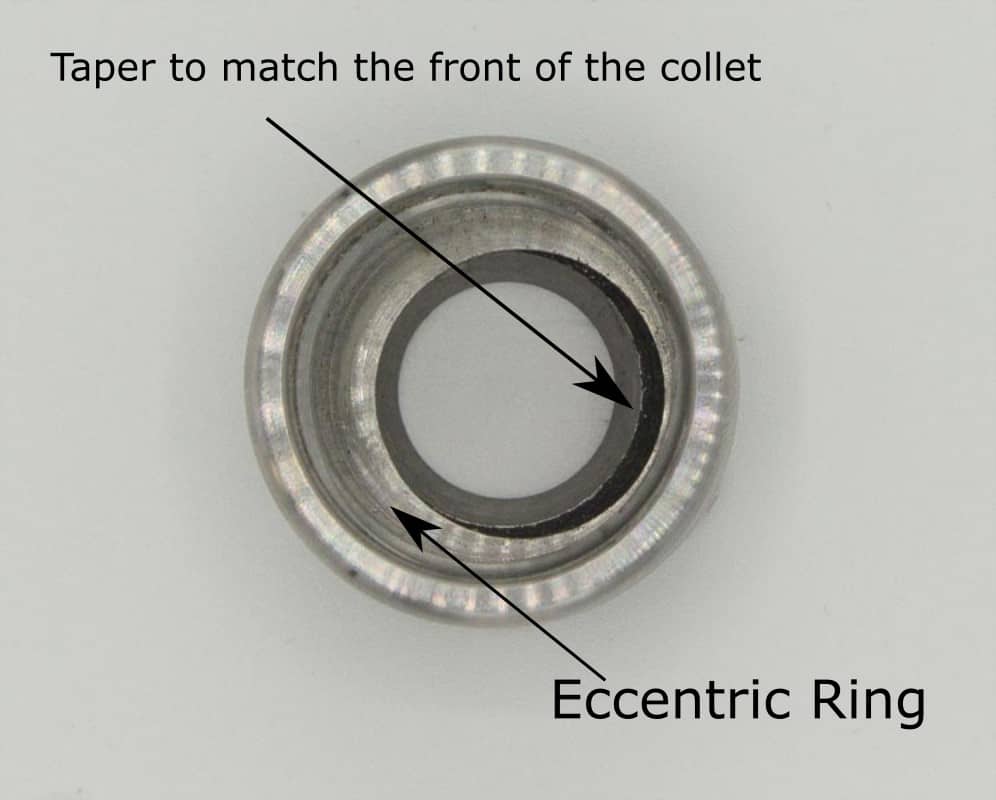 The task of the eccentric ring is to clip into the groove of the collet to hold it in place and to pull it away from the taper in the body or spindle when loosened.
The ER system of collets are manufactured in different sizes to accommodate different sizes of machines and spindles. 
These sizes are:-
ER-11
ER-16
ER-20
ER-25
ER-32
ER-40
The 'ER' numbers are loosely associated with the diameter of the interchangeable collets, measured in millimeters. This gives you a general idea of their size and how big a spindle will have to be to accommodate each size.
Most hobby machines will use an ER-11 or ER-16 size of spindle.
The collets for each designation are all identical apart from the hole down the center, this dictates what size of tool you can use with each collet. 
For example an ER-16 1/16" collet will fit in an ER16 nut and body and will accommodate a 1/16" diameter tool or drill.
ER Collet VS Chuck
Is an ER collet system better than using a chuck?
In my opinion an ER collet chuck is definitely better than a chuck.
A typical chuck in a router can usually only take one size of diameter which can limit your options with tooling.
With the ER system your options are only limited to a maximum size for the size of ER system you have on your mill.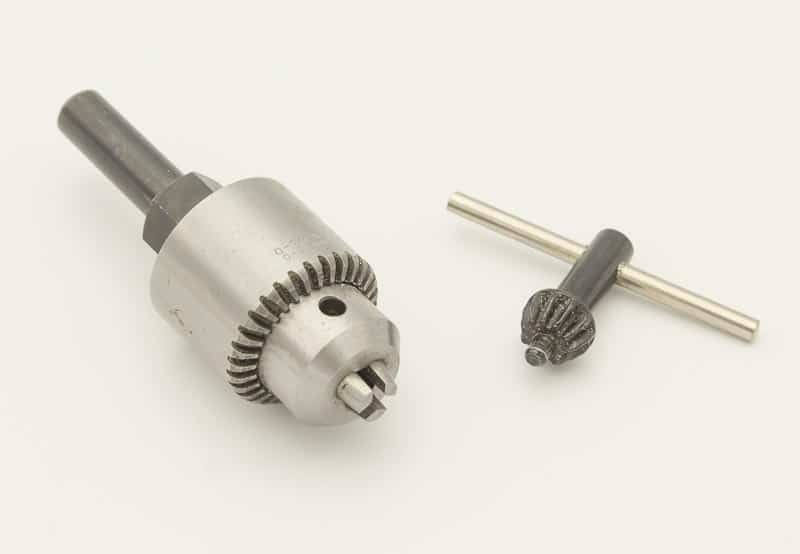 I do have an adjustable chuck for my benchtop mill, it is a small jacobs chuck that will hold up to ¼" diameter drills. The issue with this is it is quite long and takes up a lot of the Z axis travel which can cause problems. 
Having a large selection of ER collets solves this issue completely.
ER Collets sets
If you are still deciding what type of mill or router to buy for your workshop I would definitely recommend looking at a machine with an ER collet spindle. 
They solve many potential problems regarding tool choice and give you flexibility when considering different machining strategies to get a project done. 
The collets are available in sets and I would recommend getting a metric set as well as an imperial set, this will cover most, if not all of the available drill and endmill sizes.
Sets of ER collets are available on Amazon, just choose which size you need and click the link to check the prices.
(Make your own collet racks with G Code available in The cnc Philosophy store.)
KIPA 15Pcs ER11 Spring Collet Set
Includes 1mm,1.5mm,2mm,2.5mm,3mm,3.5mm,4mm,4.5 mm,5 mm,5.5 mm,6 mm,6.5 mm,7mm,1/4″,1/8″ collets in the smaller size of ER-11.
KIPA 15Pcs ER11 Spring Collet Set 1/16"-3/4" For CNC Super...*
Gripping Range: 1mm,1.5mm,2mm,2.5mm,3mm,3.5mm,4mm,4.5 mm,5 mm,5.5 mm,6 mm,6.5 mm,7mm,1/4",1/8"
Accuracy: 0.0003" or 5um
MATERIAL: High Grade 1065 Carbon Steel
15Pcs ER11 Spring Collets Kit For CNC milling Lathe Tool
15Pcs ER11 Spring Collets Kit For Workholding Engraving machine
KIPA 12PCS ER16 Spring Collet Set
Includes 1/32″ 1/16″ 3/32″ 1/8″ 5/32″ 3/16″ 7/32″ 1/4″ 9/32″ 5/16″ 11/32″ 3/8″ ER16 Collets.
KIPA 12PCS ER16 Spring Collet Set For CNC Milling Lathe Tool...*
100% Brand New and High Quanlity Spring Collet
Good elasticity, high precision, Run-Out Tolerance 0.0003" or 5um
MATERIAL: High Grade 1065 Carbon Steel
Gripping Range 1/32" 1/16" 3/32" 1/8" 5/32" 3/16" 7/32" 1/4" 9/32" 5/16" 11/32" 3/8"
Package including 12Pcs ER16 Collets
SHINA Super Precision 9 PCS ER-16 Collet Set
Set includes 1/8″,5/32″, 3/16″,7/32″,17/64″,9/32″5/16″,11/32″,3/8″ ER-16 collets.