So, you're wondering how much is a CNC Machine, and you are hoping that they're affordable and all the spending will end once you get it delivered?
Well I have some good news and some bad news.
The good news is yes, there is a type of Cnc Machine that is affordable and the ongoing cost is minimal.
The bad news is, like a lot of things in life, you get what you pay for, CNC Machines are no exception to this rule. In this article I will discuss the many factors to consider when deciding which type of CNC Machine to buy.
Typical Cnc Machine Price Overview
The Cost of Hobby Cnc Machines – $250 – $1,500
The cheapest Cnc machine on the planet is the ubiquitous 3018 desktop engraver. It starts for as little as $250 and there are many variations of this model with various upgrades. 
They can be bought with different brand names but I'm pretty certain they all come from the same factory. 
The 3018 title refers to the size of the machines work table, 30cm X 18cm.
Are they any good? 
Yes, from the standpoint of learning how to operate a Cnc Machine for a minimal financial outlay, they are perfect. 
Just don't expect it to machine anything other than wood, but you can mill any shape that a much more expensive machine can do, but only in small sizes and a lot slower.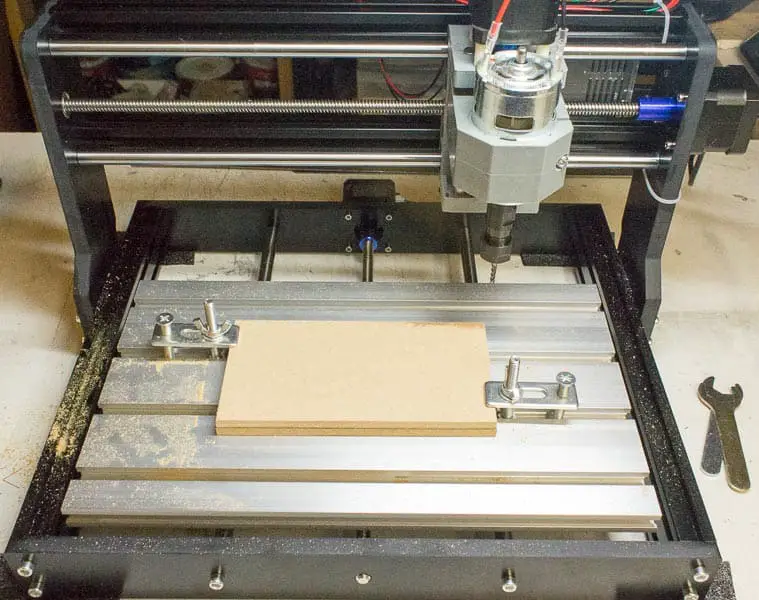 I have a full 3018 unboxing and setup tutorial if you want to learn more factors about these machines.
This type of cnc machine goes up in price depending on the options that come with it.
Some have Z axis touch probes, some come with a diode laser that can be swapped out for the spindle etc. 
The high end price for these particular machines are between $400 & $500.
Moving further up the cost scale are the larger but still basic Cnc Routers.
A good example would be the Shapeoko machines by Carbide 3D. The cheapest model, the Shapeoko 3 starts at around $1300, which is a typical router cost.
This machine is a considerable step up from the 3018 in size and capability and will give you the ability to make some decent quality projects. Carbide 3D also offers payment plans to help spread the cost.
Sainsmart offers the PROVerXL 4030, a larger, more advanced and sturdier version of the 3018 engraver. This has the option of upgrading the spindle with a dewalt palm router to give it even more capability.
This machine is around $1000 and also has a payment plan available.
Are you looking for a Cnc Lathe? Sorry, I couldn't find any in this price range.
CNC Tooling costs and Machining consumables
The cost of running these types of hobby machines are minimal. The end mills and cutters are only small and inexpensive and will last a while machining wood and other soft materials.
Mid Range Hobby CNC Machines, $2,500 – $9,000
The cnc machines/routers available in this price range are more capable of proper 'cnc milling'.
CNC Lathe
If you are looking to buy a Cnc Lathe this is the price range you can start to find them.
It is possible to use this type of machine to earn you a return on investment if you use them to start a side hustle.
Going back to the Carbide 3D Shapeoko range, they offer the Shapeoko XXL Pro from around $2800. This is considerably larger with more power than the base Shapeoko router machine and a good example of what to expect from most machines at this price point.
There are many other manufacturers of Cnc Routers at this price level, finding a distributor near where you live and researching the make and model they sell would be a smart move.
Online retailers such as ToolsToday.com deliver worldwide if you don't have a local retailer.
Starting in this price range are the smaller benchtop Cnc Machines designed to machine metal. The design of these small cnc machines usually mimic the bigger versions used in industry.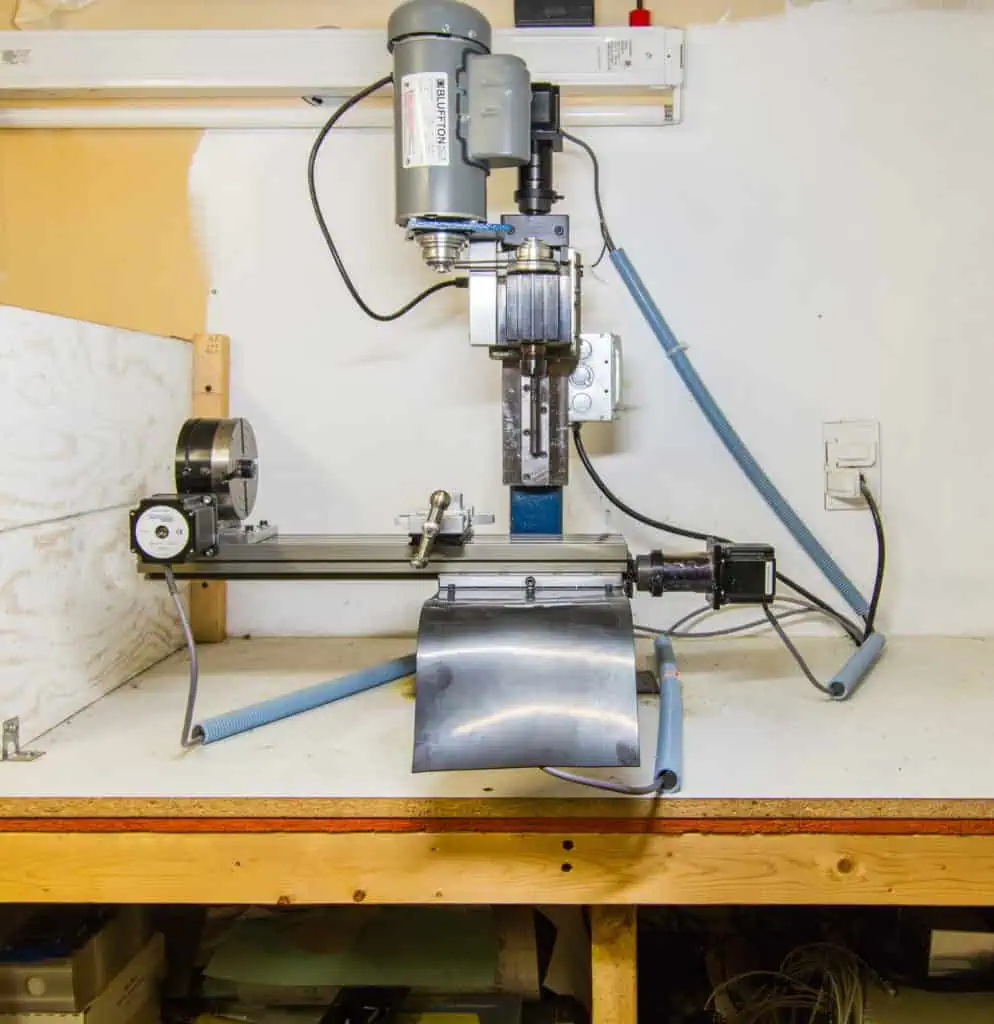 Typically the gantry style of design with the larger cutting area are used primarily for milling wood. They generally utilize a commercial woodworking router for the spindle.
Pocket NC 5 Axis Desktop Mill
Now these machines deserve a special mention. The only 5 Axis desktop cnc available, as far as I am aware. 
I want one.
They offer 2 types of machine, both the same size but with different spindles to suit what type of components you are going to mill. Basically the more expensive version has a faster, more accurate spindle.
The downside to these machines is the issue of programming, you really need to know how to program them using a 5 axis capable Cad/Cam system. They are aimed more at specialised industrial and prototyping applications.
Cost of Tools and Consumables
The machines in this price range have a lot of accessories available that can start adding up the cost. For example I bought a 4th axis rotary table for my Taig cnc mill, this was $500. 
Also when machining metal you will go through end mills a lot faster and I would recommend paying for better quality when machining metals.
High Range Consumer CNC Machines, $9,000 – $22,000
This section is for the rich folk! 
These machines are aimed at small business owners with a product to make. There are a few industrial Cnc Machine manufacturers that have smaller sized machines that will fit in a decent sized home workshop or garage.
Tooling Costs and Consumables
All these machines are basically smaller versions of proper industrial machines and as such the extra expense of tooling has to be factored in.
Multiple collet holders for the tool changers, coolant systems and these machines need industrial air compressors to run. You basically need a fully functioning tool room to get the most from Cnc Mills in this price range.
So at a best guess you need to double the machine cost to find the total investment you need to make.
Industrial Cnc Machine Cost $22,000 – $1,000,000+
There are so many machines in this category I'm not even going to start, ranging from basic 3 axis VMC machines all the way up to 5 axis cnc machines.
If you are a CNC Machinist and run a machine shop you won't be googling "how much does a cnc machine cost" and be reading this article anyway. 
If you are interested in buying a Cnc Machine there are many factors that need to be considered. My website is dedicated to helping you learn how to use these machines. I have a free 7 step guide to cnc machining pdf download which comes with a G Code program for you to run on your new cnc.
Click the button below to find out more!